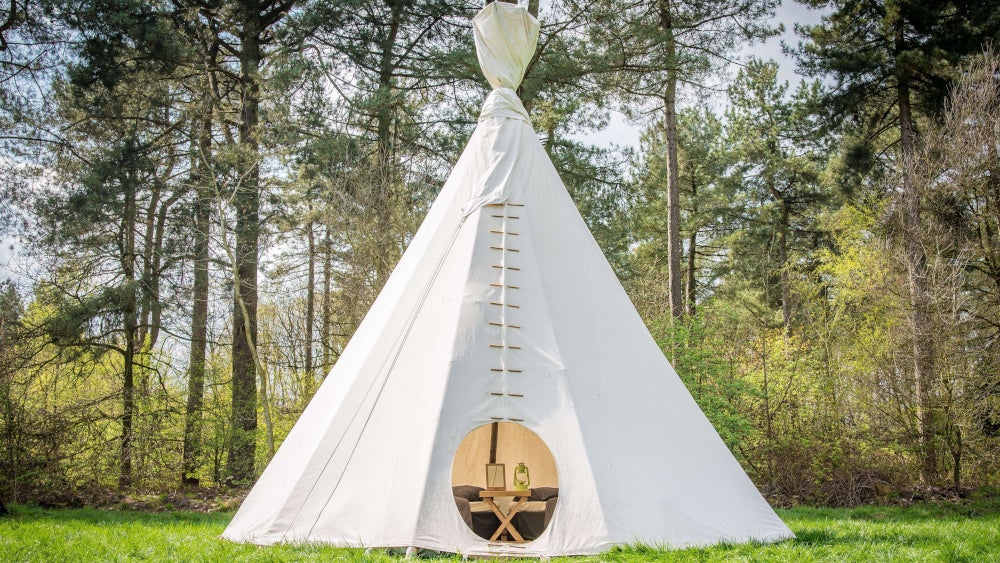 Here at Dreamfields we offer a range of premium options, so you can focus on making the most of your time at Creamfields and forget the hassles of bringing and setting up your own tent. Our accommodations and facilities provide the perfect chill out space for you to recharge, wash away last night's glitter, and prepare yourself for the day ahead.
For questions or accessibility requirements - please email vipnation@livenation.co.uk or call VIP Nation on +44 (0)207 009 3484 before booking.
Luxury Tipi includes:
Ground sheet and carpet flooring
1 decorative rug
Doormat
Bed(s) with foam mattress
Duvet(s) & pillows
Bed linen
Throw blanket per bed
Bath towel per person
Room light
Battery powered lanterns
Small mirror
2 bedside tables
2 folding chairs and low-level table
Clothes rail with 3 hangers per person
Power supply (for charging devices only)
Accommodation Price Booking Fee
Luxury Tipi for 2 – 2 single beds £780 £20
Luxury Tipi for 2 – 1 double bed £780 £20
Luxury Tipi for 4 – 4 single beds £1080 £20
Your Dreamfields experience will include:
Access to private Dreamfields campsite
Free car park pass (1 per 2 guests) *
24-hour Dreamfields reception & site security
Proper toilets & showers
Pamper tent with hairdryers and straighteners provided
Phone charging hub (at extra cost)
Important! Festival Tickets are not included in the accommodation price and must be booked separately. Everyone staying in your Dreamfields accommodation must have a 2, 3 or 4 day Creamfields Camping ticket (Standard, Bronze, Silver or Gold) to gain entry.
More Dreamfields details…


For general questions on Creamfields (like things you can and can't bring) please always refer to the Creamfields website.
The Dreamfields Campsite is open from Thursday 22nd until Monday 26th August. You can only use your accommodation for the 2, 3 or 4 days specified by your festival camping ticket(s). Anyone beyond the advertised capacity will not be permitted to stay in the structures.
We will require a £50 refundable deposit upon check in.
All images are of expected delivered accommodations - but please be advised final products are subject to some minor changes (for example in furniture colouring or exact layout) depending on exact availability.
* Due to adverse weather conditions or similar circumstances, customers may occasionally be asked to park slightly further from our usual Dreamfields parking area.

VIP Nation and Creamfields are solely responsible for delivering the package. T&C's for entry to Creamfields can be found here www.creamfields.com/terms